PERIODICAL CHECKS

END OF EACH WORKING SESSION
- Check that there is no leakage of oil from the gearbox and there are no drip
- Check the integrity of security systems and protection
WEEKLY
- Check if the outlet is free from residues of material, if it is not, clean to avoid any obstruction to the passage of
material.
-Check the efficiency of the washing systems
MONTHLY
- Check the tightness of bolts
- Check the motor cooling fan
- Check the Lubrication brush oil Cartrige
EVERY TWO (2) MONTHS
- Check and grease the support wheels
EVERY SIX (6) MONTHS
- Check the lubricating system for the transmission. If finished, replace the greaser with a new one
- Check the bolt tightness
ROUTINE MAINTENANCE

This chapter provides instructions for carrying out the routine maintenance which do not require special skills for
the operator.
Poor maintenance causes early wear and higher probability of failure or breakage.
All transactions described below, although not expressly stated, should end with the repositioning and tightening
of all the body's connection and attachment.

CHAIN LUBE CARTRIDGE REPLACEMENT FOR TRANSMISSION GREASING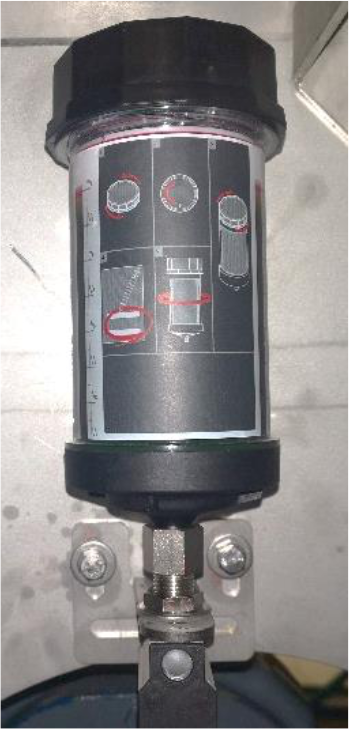 Transmission must be continuously lubricated. Lubrication system is present and

we supply a first cartridge. Depending from the rotation time, the cartridge must be
replaced every 4-6 months.

REPLACEMENT OF THE WHEELS

- Disconnect motor from main supply
- Remove the covers
- Wash the machine with plenty of water
- Unsc
r
ew the bolts (1
)
o
f the wh
ee
l supp
o
rt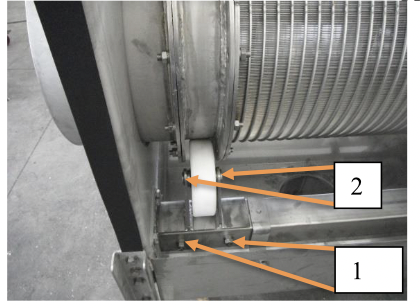 - Unscrew the bolts (2)
- Remove the wheel/s and put the new one
- Follow the reverse sequence in order to mount the wheel/s
REGISTER THE DRUM SUPPORT WHEELS

In the support drum wheels have worn out over time, this can cause the lowering of the drum.
T
ighten the N
°
4 bolts s
h
own in the photo below to raise the support w
h
eel and bring the drum b
a
c
k
into position.